Written by Anca Vislie Global Marketing Manager
November 30, 2021
How do you choose a good krill oil product? As the krill oil leader, we are sharing best industry practices
With an abundance of krill oil products on shelves today, how do consumers know what they are buying is right for them?
Krill oil is a super supplement which is why it's a top solution for a proactive approach to improving health. With that in mind, it's only right to assume that the krill oil products you are buying will provide you with the benefits it promises. Unfortunately, that is not always the case which is why brands and retailers have an obligation to their customers to educate and validate their products.
Online sales channels represent about 26% of krill oil sales in the U.S. and recent data shows that a good portion of the brands sold in some of these online platforms are not pure krill oil product. In fact, there are many mislabeled products on these sites, with blended and low quality and concentration of krill oil, some of them are not even proper to use. Consumers shouldn't get fooled into buying fake krill oil; this is what they need to know:
1. Don't get lost in the supplement facts box
Navigating the supplement facts panel can be overwhelming. Lots of hard to pronounce ingredients and unfamiliar language can put a lot of stress on consumers. The panels should be broken down into two sections, information and nutrients.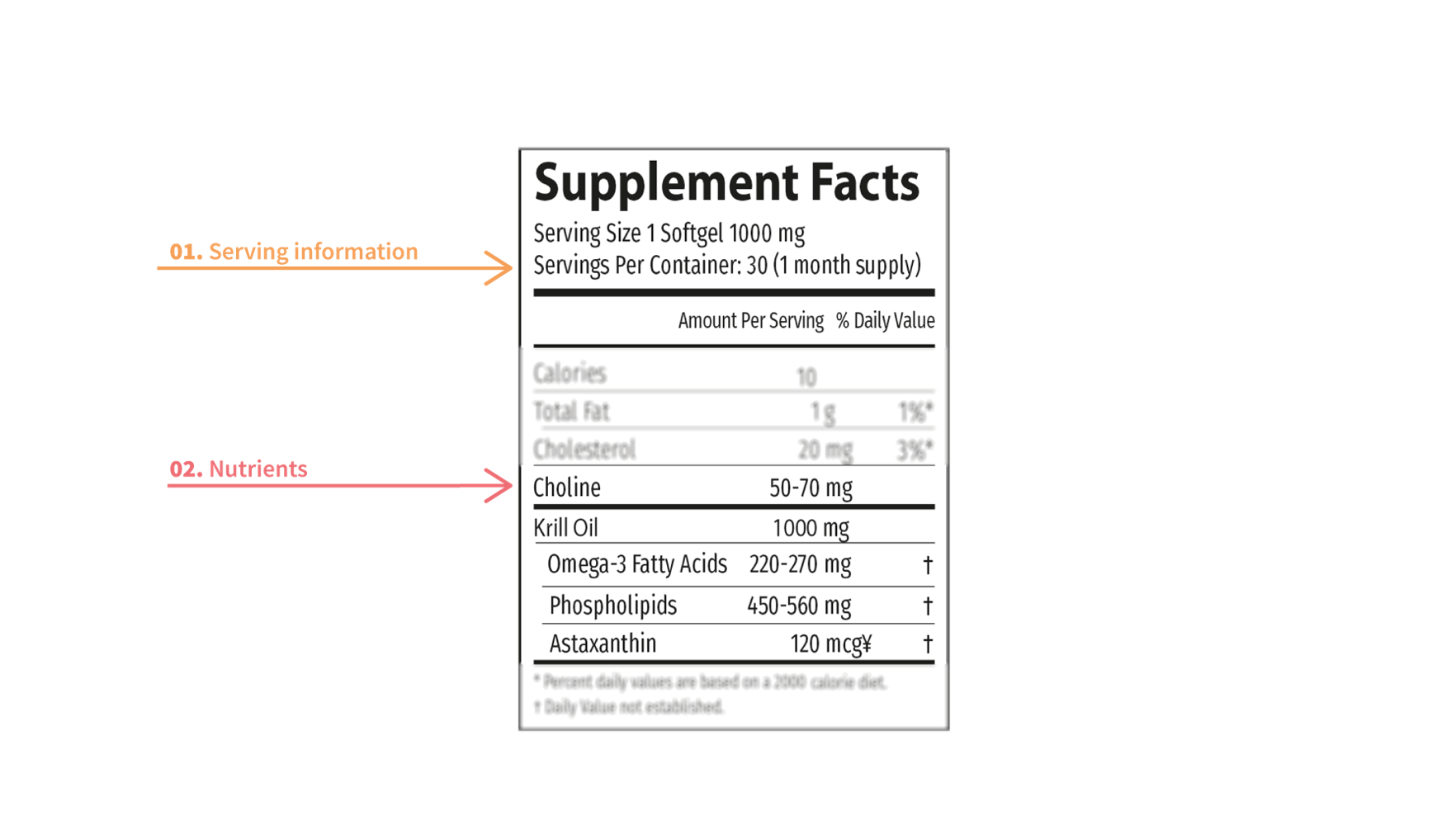 With krill oil labels, look for 4 main ingredients: Phospholipids, Omega-3 fatty acids (EPA and DHA), Choline and Astaxanthin: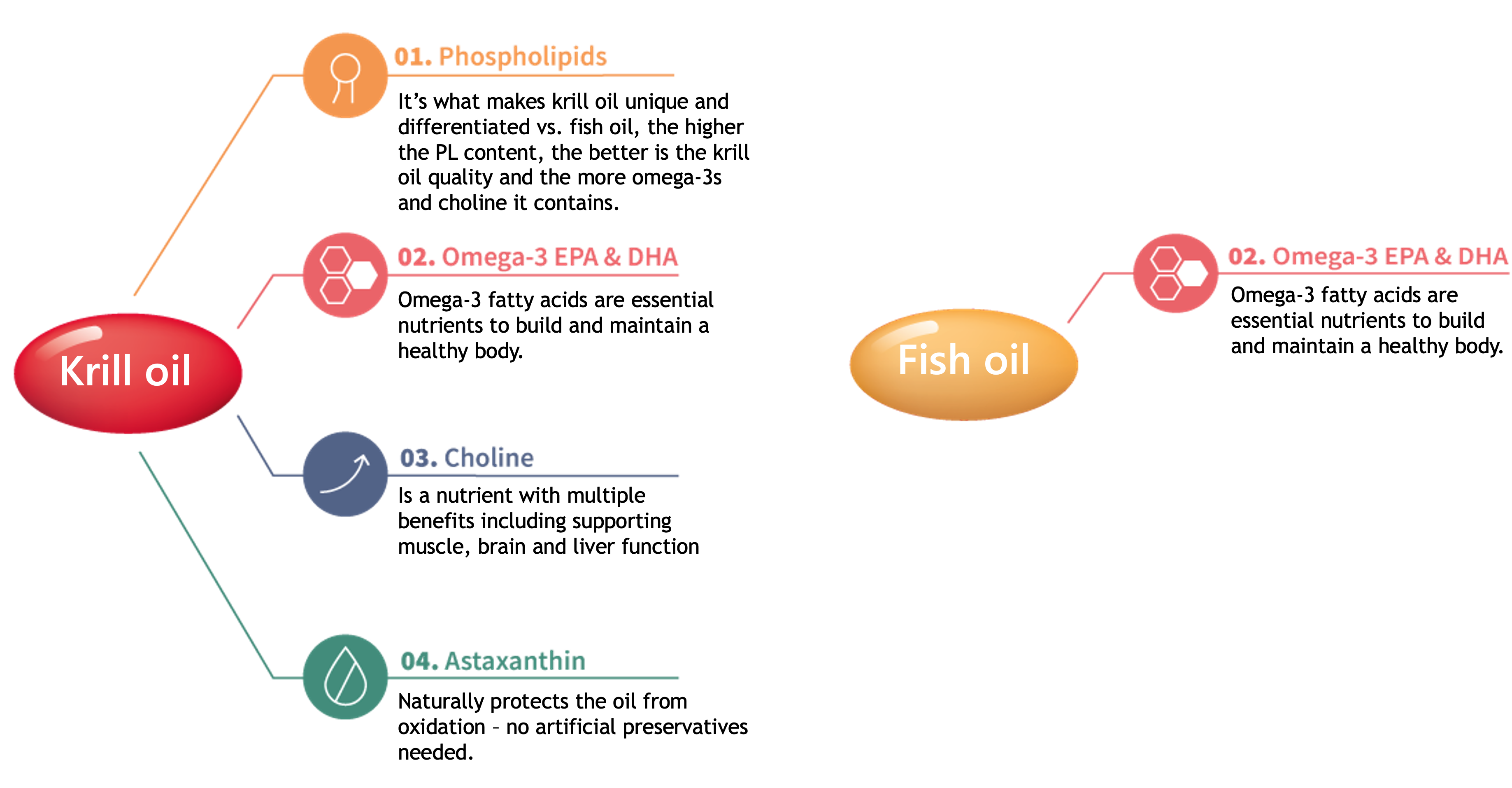 Krill oil is a premium ingredient, and a good quality krill oil is defined by its high content and concentration of phospholipids. High phospholipid content means superior and genuine quality krill oil in its natural form; krill oil is not diluted with other oils or soybean phospholipids.

2. Understand what you are paying for
Understanding the serving size and value of what you are getting is imperative. Some brands will mislabel their information in a deceptive way to generate more sales. For example, the label might read "2000 mg" but in fact the serving size is 1000 mg which means you will need 2 capsules to satisfy the 2000 mg dosage.
3. Efficacy and substantiated health benefits are a must
There is a major difference between bad and good quality krill oil. Low quality krill oil has no health benefits due to very low concentration of active ingredients, like phospholipids and omega-3, while good quality krill oil with high phospholipid content leads to impactful and clinically proven health benefits. As a multi-nutrient supplement, krill oil comes with many health benefits from heart and liver to joint, brain, skin and much more.
Did you know that omega-3 fatty acids are the fifth most researched molecule in history? In fact, krill oil has been looked at by researchers for 15 years with 60 published studies and 76 patents. 85% of all published studies on krill oil and health benefits were led by Aker BioMarine.
4. Certifications & traceability are key
High quality, clear health benefits, clinically proven or doctor recommended are all key purchase drivers among consumers. Sadly, there are many products with unsubstantiated claims and no third-party certifications.
It's important to look for third party certifications like MSC and Friends of the Sea in addition to brand claims. Labels of trust are a must, and don't forget about traceability. Do you know where your krill oil comes from? The health of the planet is as important as, and naturally linked to, the health of an individual.
Below is an overview of different certifications worth looking for when it comes to evaluating and choosing different krill oil brands. The certifications cover areas like krill oil efficacy in increasing the omega-3 index, the possibility to trace the origin of the krill, the sustainability of the fishery, the krill stock and the krill operations, the quality and testing of the ingredients as well as the harvesting and production methods.
Read more: Superba Krill is the first and only krill oil ingredient to receive IKOS certification





5.
Expect a superior user experience
A quality krill oil product has a ruby red colored capsule and a pleasant odor with no fishy aftertaste. Anything else is less than the best and questionable.
There is no question that a good product leads to better consumer experiences—higher compliance, noticeable health benefits and higher advocacy, as well as higher satisfaction and repurchase rate.
Don't be fooled by fake 5-star reviews. To make sure you choose a good quality krill oil product, it is crucial to look beyond the paid content reviews and also read feedback from consumers that are not happy about the product experience giving low ratings.
To sum up, to make sure you choose a good quality krill oil product, check the following 5 features:
1. Supplement facts and nutrient content
2. Pricing, serving size and dose
3. Efficacy and health benefits
4. Certifications and traceability
5. Superior user experience
Superba Krill can be found in many trusted brands. Look for the Superba trademarks Superba 2 and Superba Boost to ensure you are getting the most clinically researched and high quality krill oil.