Written by Thomas Repstad - Marketing Manager
April 19, 2020
The time pre-COVID-19 can seem for many to be a distant memory as social distancing measures are sweeping across the globe. Businesses and people have had to adapt their routines, lifestyle and daily habits to deal with the unknown and rapidly changing market landscape.

For us here at Superba Krill, this has meant adapting to working from home (WFH) to protect the health of our people, and to ensure krill oil is delivered to our customers worldwide.

How our teams work from home
Our teams are fully operational and now that we are in full swing of WFH, a few of our krill oil experts from our offices around the world share their tips and tricks for staying organized, efficient and motivated while you work from home.

For us it is all about sidekicks, "barbacoas" and no more knekkebrød!
Want to contact our team? Get in touch HERE.
Marie-Tran Ho
Krill Oil Account Manager, Canada
A dedicated work-space is key
I believe that separating work from personal life is key, even if you do not have the luxury to dedicate a full room or large space as your workstation, something as simple as the corner of your small studio apartment does the job very well.
The important thing is that you are able to disconnect from your life at home but still feel comfortable while you work. Therefore, investing in a solid desk, ergonomic chair and adding details such as a keyboard and mouse wrist rest pad can be beneficial to your health and productivity both short term and long-term. I also like to add small touches such as plants and a diffuser with refreshing essentials oils to give it a nice and Zen ambiance.
Get moving!
I start my day with walking Mr. Charlie Brown (my 7-year old goldendoodle) followed by either a workout or yoga. It helps jump start my day by giving me a boost of energy. Days can sometimes feel long when you are working alone from home, so make sure to take small breaks throughout the day and reach out to your colleagues to simply say hi and see how they are doing.
If you are feeling overwhelmed and stuck, it is more beneficial to take 10 minutes to calm your mind, meditate, stretch, get 20 squats in or even take a short walk to get your blood flowing, rather than reluctantly forcing your way through your to-do list. I can guarantee you will return to your desk feeling far more productive and ready to tackle your remaining tasks.
Choose your sidekick wisely
Working from home is not always easy as it requires a lot of discipline and adjustments. Try out different spaces in your home and different exercises to see what rhythm works best for you. To top it off, it doesn't hurt to have a cool sidekick available 24/7 to you as therapeutic help (thanks Sir Charles!).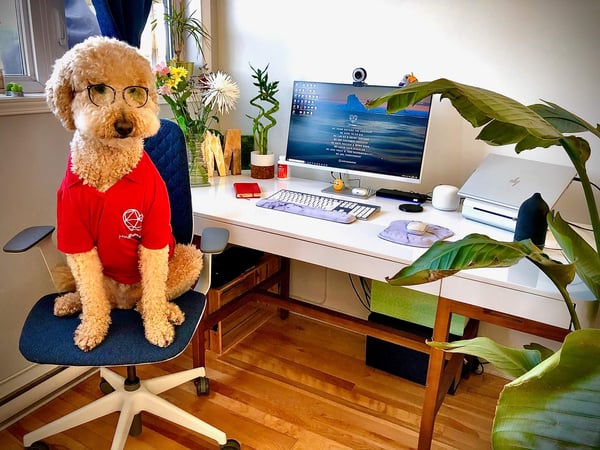 Anette Yamamoto-Hansen
Krill Oil Account Manager, Japan

Working from home in Japan is still a rare luxury, and during the rush hour many trains are packed to near double capacity. Looking back at my pre-WFH life, commute-related stress was a part of everyday life. I have been working partly from home for the last couple of years, and my experience has taught me both to appreciate and take advantage of the current situation.
Take regular breaks and learn to juggle
My best advice for staying productive while at home is to take regular breaks. Sitting still for too long is not ideal for concentration, so every hour I make sure to take a short break of around 5-10 min to increase my blood flow.
One of the things I do, is practicing juggling. Not only does it work for limited spaces, but some research actually indicates that juggling can positively impact the size of your brain. As I work with krill oil, a product said to have favorable effects on mental functions, I like to think that the combination of daily krill supplements and juggling can have a synergetic effect on my brain.
Most of us might not have juggling balls laying around at home, but it is possible to start by taking three socks and rolling them into a ball. This also makes it easier to avoid smashing all your home electronics if you're a beginner. To start, you can check out YouTube for detailed tutorials.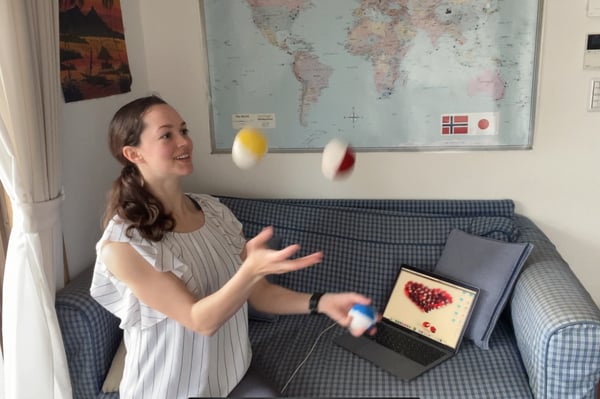 Gian Franco Guerrieri
Krill Oil Sales Director, Latin America

Working from home can be even more challenging since we might not be alone our home, with other family members, spouses working from home as well as sons or daughters either doing home study or working from home themselves.
I found my personal workspace in our "Barbacoa" which is a separate dining room with a fireplace for grilling meats during gatherings of family and friends. I have a bunch of space here and with virtually no distractions! However, it is not just private space that is needed but also internet bandwidth, which is now being shared by other family members whom may need it just as much as you.
In order to mitigate stress and improve productivity while WFH, I follow a strict plan that fits for my personal situation. Here are my top tips!
Stick to your normal work routine
Just because you are working from home doesn't mean you can wake up at any given time and go from your bed to your work area. I would recommend you wake up at the same time you normally would as if you were going to your office, and continue with your regular routine (work out, shower, breakfast, etc) and then head off to your work area.
Plan ahead
Planning your workday and the week ahead can help boost your productivity, as you are focused on what is really important.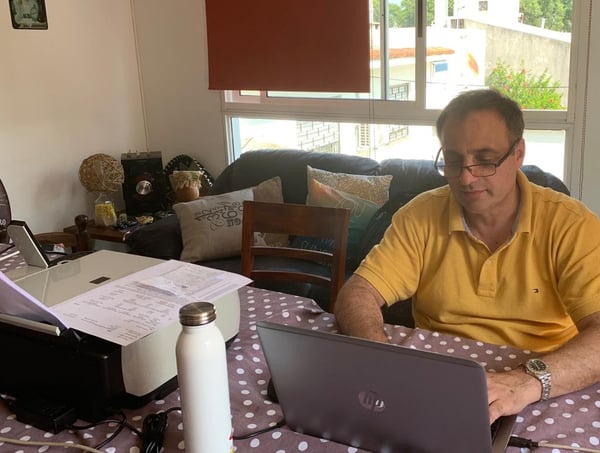 Nadiège Monnier
Krill Oil Account Manager, Europe

Living in a 2-bedroom apartment in Oslo, married, with no children can mean life is a bit easier under the current circumstances! Both me and my husband are working from home – he chose the living room and I wanted the guest room. Here are my tips for taking care of each other and making the WFH period as smooth as can be!
Decorate your workspace
Have a dedicated space you can work from every day. It can be a kitchen table, the living room and if you are lucky a guest room. It is important to have a routine.
Make it pretty. Use your favorite cup (I use one with the pictures of my niece on it), sit in a place where you feel comfortable and also that makes you happy. Try a nice view by the window, flowers on your desk or an interesting picture on the wall!
Drink tea & watch out for snacking!
I always have a thermos with hot water for my tea. I drink a lot more tea at home than at the office: this allows me not to get up every 5 minutes to grab some snack in the cupboard. The downside of this, I go a lot to the bathroom! The corona kilos won't get me!
Keep regular contact with colleagues
Keep in touch with your colleagues. We all are in the same situation and it is always nice to have a spontaneous video call with your colleagues just to know how they are doing. Challenge each other; for exmaple we currently have a '100 pushups a day' challenge for 30 days. It keeps the blood moving and is fun!
Home cooking
Use the opportunity at home to cook delicious food! It is a nice activity and it will make you happier than knekkebrød (a dry Norwegian cracker of which we had plenty in our office). Also, it pushes you to be a bit creative, especially when we are not used to cooking so often.
All in all, I try to do my best to make my WFH time a happy and cozy time!