Written by Lisa Miller - Communications Director, US
January 03, 2018
Much of the world's population exhibits low blood levels of the omega-3s EPA & DHA, according to a study published in the May 2016 issue of Progress in Lipid Research. Omega-3 deficiency is associated with several major chronic diseases. Given these findings, it has been suggested that low omega-3 status is as much a public health issue as vitamin D deficiency and that it is imperative to get these nutrients into the hands of as many people as possible.
In order to help raise the blood levels of omega-3 in the population and market your omega-3 product it is important to know the market itself, the average levels of omega-3s in the country in which you operate, as well as how to market the message.
Knowing your omega-3 level matters

First of all we need to know how to measure the blood levels of omega-3s. A way to raise awareness on the importance of these omega-3s and your product is to engage doctors and other key opinion leaders to communicate to consumers about the importance of knowing their omega-3 EPA/DHA level. They can do this by using a nutritional tool like the Omega-3 Index Test.
The Omega-3 Index (O3i™) Test is a simple, self-administered blood test that measures the amount of EPA & DHA in your red blood cells. Dr. Bill Harris explains that a low Omega-3 Index correlates with a higher risk of cardiac death, while a high O3i is ideal for maintaining a healthy heart.


These countries have low blood levels of omega-3

The study published in the May 2016 issue of Progress in Lipid Research mapped out countries and regions and their omega-3 levels, which reinforces a growing concern that low omega-3 status is a global public health problem.
Regions with low levels of omega-3 include but are not limited to North America, Central and South America, central and southern Europe, the Middle East, Southeast Asia, Africa, Australia and China.
Unfortunately, most people globally have a low or very low Omega-3 Index, which in some cases could increase their risk of cardiac death by up to ninety percent.

Dr. Bill Harris, an internationally recognized omega-3 expert, co-inventor of the omega-3 index test, and President of Omegaquant analytics.

A level of 4 percent is associated with higher risk for sudden cardiac death. 8 percent and above is the desired level and the lowest risk level.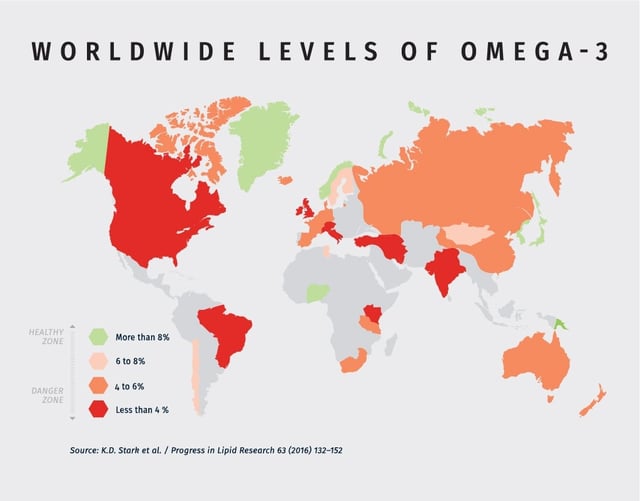 This map illustrates how the majority of the population have very low levels of omega-3s in their blood. Where do you fall in? Knowing this, as well as the levels in the countries you are operating in, you can gain insights on how to market your product to a specific target group.
Read more: How is the personalization trend impacting the omega-3 market?
Addressing the public health issue

Aker BioMarine decided to form The O3i Project with several industry partners, such as companies, associations, and non-profits to bring more awareness to the ramifications of having low omega-3 levels – an issue that doesn't discriminate, is globally relevant, and costs health care systems around the world billions of dollars.
According to Dr. Harris who is also an active member of the O3i Project, the O3i has been identified as a bona fide risk factor for heart disease, with several peer reviewed papers to support it. But it doesn't stop there.
As Dr. Harris puts it, the health implications of low omega-3 status include higher rates of other chronic diseases such as dementia, various eye diseases and more.
We believe anyone selling omega-3s has an obligation to address this public health issue and help do something about it

The ultimate goal of The O3i Project is to get its partners to communicate through their channels about the importance of the O3i. In most cases, once consumers know their O3i they are motivated to act. At this stage, it is the goal of Aker BioMarine to connect the O3i test with krill oil specifically as a legitimate EPA/DHA omega-3 option because we know through clinical studies that it is shown to raise the O3i.
Read more about the Omega-3 Index Project here.
How can you make an impact with your omega-3 product

Education is key when it comes to preventing lifestyle diseases and bringing awareness to the deficiency of omega-3s. Finding the right balance is essential to putting us on the right track to becoming healthier.
To create positive change, Aker BioMarine, a leading supplier of krill-derived products to the consumer health and wellness and animal nutrition markets, is working with industry partners to reach consumers through their channels and network.
Read more: What makes consumers choose a specific omega-3 supplement?
We want to enable our customers to stand out and differentiate their products in their markets. Therefore, we have put together a comprehensive toolkit for our partners to use in their efforts to raise awareness of the importance of omega-3s and health. Contact us for more information on this.
This marketing toolkit based around our new short movie, includes ready-made marketing messages, banners and video material adapted for use on digital platforms such as Facebook and much more. All of this material can be adapted to our partners' unique need and market.