Written by Lisa Miller - Communications Director, US
May 19, 2020
Aker BioMarine is continuing to lead the way in shaping the future of the krill industry. We are sitting down with Matts Johansen, Aker BioMarine's CEO, to hear more about the company's commitment to the industry today, and why this is an important step for the future of Superba Krill oil.
The supplements industry is booming at this time. What are you doing to make sure krill is relevant and top of mind for your customers?

Matts: Dietary supplements are important to consumers, especially now, and it is crucial that we continue to show our customers why krill oil perfectly fits into that conversation.

At Aker BioMarine, we believe in a world where all have access to quality nutrition and good health. We believe krill oil is a good option when it comes to general health and there are many reasons why. Krill oil offers a multitude of health benefits and contains multiple health promoting nutrients. It also provides a great consumer experience, plus it's a sustainable, traceable and pure choice.


In order to ensure that our customers are thinking about krill oil in this way, our Superba teams are keeping connectivity high and keeping conversations flowing. By working closely with our customers, we are making krill oil a priority and bringing value to the industry. Consumers are looking for solutions to general health and krill oil should be top of mind.
In order to help keep the industry moving in a positive direction, it's important for companies like Aker BioMarine to continue investing and innovating like never before. Can you tell us more about how you are doing that?

There is no question that this is an interesting and challenging time for many. Like others, we have had to prioritize our projects and put resources towards initiatives that will make a difference now. To that end, it's critical that we continue to push forward in order to help make a positive impact.

We are investing in technology to help advance our sustainability leadership. In order to be a driver for a more transparent, data-driven fishery management regime for krill in Antarctica, we are utilizing ocean data drones, machine learning, and other technologies.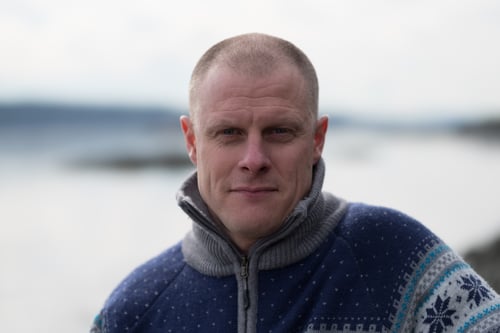 Matts Johansen, CEO of Aker BioMarine.

We recently launched an unmanned solar-powered ocean data drone (called the Sailbuoy) as part of our operations in Antarctica. The Sailbuoy is two-meters long and is equipped with echo sounder and environmental sensors to collect data from wherever it is deployed, in real time. It was built to be robust and to survive the tough Antarctic conditions, but it was also designed to be small and unobtrusive to avoid disturbing the local wildlife. All of the data collection carried out by the drone has a carbon footprint of zero and will provide a more accurate picture of the size of the biomass, benefiting the wider scientific community and the krill fishery as whole.

We also believe that big data is the future of sustainable fisheries management, giving us better decision-making tools to help positively impact the industry. By using live data and machine learning, we are able to increase our positive handprint while minimizing our carbon footprint.

Another way we are contributing to human health is with science. Our science team is exploring all that krill oil has to offer from a health benefits standpoint and we have some exciting ongoing clinical studies that are coming out later this year.

We recently conducted a study that shows krill oil is a safe, effective and well tolerated way to boost your necessary intake levels of choline, which is an underrated yet essential nutrient. This is most definitely an important topic for our customers.
What can we expect from Aker BioMarine in the future?

I would have to say that the future looks bright. We have many projects in the pipeline that we will start to roll out later this year from supply chain and science to innovation and sustainability. Generally speaking, it has never been more important to make healthy food and nutrients available, and with a growing population, that will become a bigger topic in years to come.

70% of the planet is covered by oceans, but only 2% of the food consumption and 0.5% of FDA approved pharmaceuticals comes from the oceans. As a unique and diverse system, the ocean plays a critical role in the world's future. We will continue to invest in technology platforms, partnerships and research to further protect the ocean and environment, and we will continue to provide the best ingredients to our customers across the globe. Together, we will create solutions to help address the growing population.

Learn more about how Superba™ Krill is breathing new life into the omega-3 market in by downloading the brochure below.