BROCHURE
Halal Krill Oil
Superba SC40 is produced under strict bio security and safety standards in a Halal certified facility.

Aker BioMarine uses technology that will maintain the biological activity in krill oil with high levels of phospholipids intact. Like Aker BioMarine's other flagship Superba ingredients, Superba SC40 is a quality krill oil ingredient that provides powerful phospholipids with omega-3s and choline, delivering whole body health benefits.
Download the brochure to read more.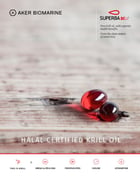 Fill out the form to get access to the Halal krill oil brochure where you may learn about krill oil health benefits and how to purchase Superba SC40.